VENTURI SCRUBBER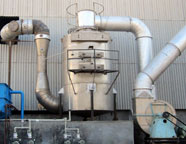 Shimi Research Center Pvt Ltd is a leading Venturi Scrubber manufacturer in India. Venturi Scrubber effectively reduces the contamination level of flue gas. Our Venturi scrubbers are widely used as a Flue Gas Desulphurization, FGD unit and the areas where the flue gas is highly contain dust particles and corrosive fumes. For the superlative product quality, we manufacture Venturi scrubbers with best quality raw materials. We supply Venturi scrubbers in different parts of the world. At present we are one of the leading exporters of Venturi Scrubbers to South Africa and Middle East countries such as UAE and Saudi Arabia.
Venturi Scrubbers have the highest particle collection efficiency of any wet scrubbing system which can reduce the contamination level of flue gas up to 99%. A Venturi scrubber consists of three sections: a converging section, a throat section, and a diverging section. Their open construction enables them to remove most particles without plugging or scalding. The inlet gas stream enters the converging section and, as the area decreases, gas velocity increases. Particle and gas removal occur in the throat section as the inlet gas stream mixes with the fog of tiny liquid droplets. The ability of Venturis to handle large inlet volumes at high temperatures makes them very attractive to many industries. For use in industries with high corrosive gas emissions, high-grade stainless steel such as SS-316 is used for the construction of a Venturi scrubber. Our system capacity ranges from 1000 CMH to 200000 CMH. The running cost of our systems is depended on the application and capacity. As a rule of thumb, treatment of 1.0 CMH contaminated flue gas Venturi scrubber requires 1.5 - 2.0 KW electricity.
Venturi scrubbers meet the unique needs:
for particulate removal.
for variable exhaust volumes.
for gas absorption and particulate removal
for course particulate removal.
Features:
High cleaning efficiency is high
High pollution load acceptance
Pollutants can be removed from scrubbing liquid using water recycling units
Works well even at high temperatures