IONVENT®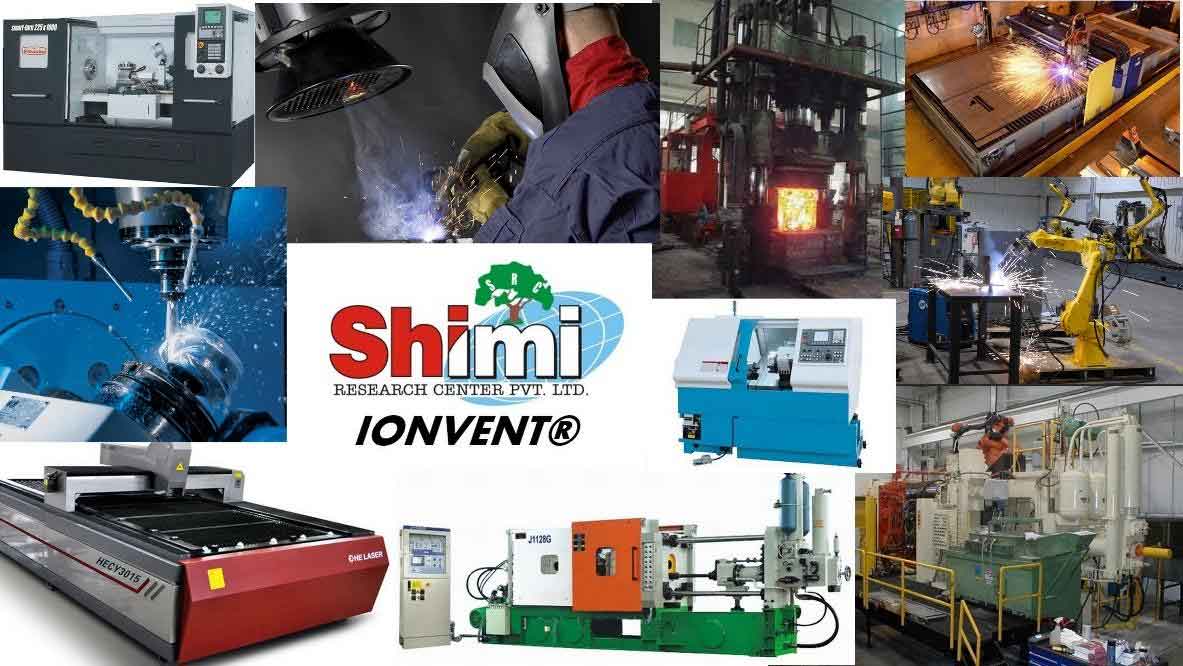 IONVENT® - An Ultimate Electrostatic-filter for the extraction and control of oil mist, fumes and dust in the work environment. Shimi Research Center Pvt. Ltd. with its expertise in the field of pollution control equipment introduces the highly efficient, compact, indoor filtering system, IONVENT®, to suit various customer needs.
The typical applications are:
Die casting and Foundries
Tooling Machines
Press and Forging Hammers
Manual and Robotic Welding
Laser cutting machines
IONVENT® Principle
IONVENT® works on the basis of electrostatic precipitation technology where impurities are initially charged and then collected on the oppositely charged surface giving absolutely clean air discharge. It can arrest a wide range of particle sizes as low as 0.01 micron to 100 microns
The system can be combined with any extraction mode such as a flexible arm, hood, etc.
Main features:
Cleaner environment with a "lesser spaced" system.
Low operating and maintenance costs due to low wear and tear components
Automatic cleaning system (optional), making the maintenance less troublesome
Variety of sizes
Inbuilt safety features
IONVENT® are available in standard sizes apart from custom made designs: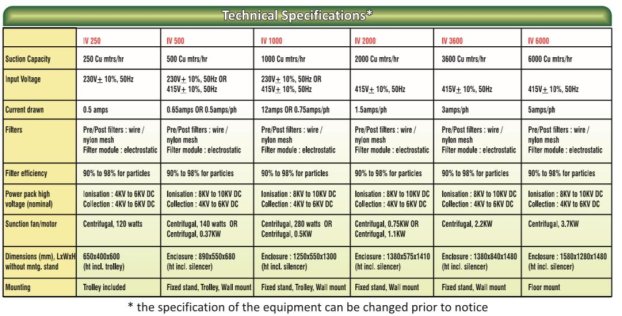 IONVENT® filters are also accompanied by a variety of Pre/Post stainless steel filter media. IONVENT® is made for the highly efficient filtration process of contaminated air emissions such as mist or smoke (consisting of oil) or dusty aerosols. Even sticky and oily substances such as lubricants, grease, smog, oily smoke or mixtures of humid and dry particles can be separated from the contaminated air.
EXTRACTION MODES:
(A) Extraction Hoods Smoke aspiration from large machines such as die casting machines or forging presses, fumes are generated in large area, thus tailor made fume extraction hoods are available in stationary or retractable design to cater to various needs of customer. The hood collect the mixture of oil, mist, dust and smoke from various sections of the machine and IONVENT® extract them for cleaning and purification
(B) Flexible arms: In places where the emission spots are small and refer to a one or two points flexible arms can be used to remove the fumes from the work environment and treat them accordingly.
Features of the Pressure Die Casting Hoods:
No obstruction to maintenance and production: IONVENT® equipment utilizes an extraction hood in fixed and retractable mode. The movement of retractable hood is controlled by geared motor which would allow the die to be changed or machine to be serviced without any obstruction.
Highly effective smoke and fume extraction: Because of the special extraction hood design and construction (inbuilt deflector) even continuous and intermittent concentrated smoke streams can be evenly extracted.
Flexibility of design: All extraction hoods are designed as per specific requirement of the customer and makes them ideal to be used in any environment.
Absence of Fume Extraction system results in:
Slippery environment
Frequent maintenance of the sensitive components
Breathing problems to operator
Reduced efficiency
IONVENT® Filter systems offer the possibility of integrating an automatic filter cleaning system in the filter housing. The cleaning system operates mostly automatically and requires no presence of operator.
Note: Portable cleaning systems are also available on request