CARTRIDGE TYPE DUST COLLECTOR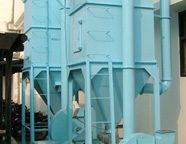 Pulse-Jet Cartridge dust collectors use round, pleated cartridges, which pack a large surface area into a small filter.  Filter media is typically a "paper" made of cellulose, polyester, or a combination of the two.  The two basic styles of dust collector are vertical, and horizontal (down flow style).  The horizontal style is more popular due to its compact design and smaller footprint. Vertical systems are used where thorough filter cleaning is required and for other special applications.
ADVANTAGES:
More area in less number of bags
System becomes compact.
Higher efficiency.
The filters can be pulsed clean while on-line (with the fan running),
These systems are typically used for filtration of dry/free-flowing powders, dusts, and fumes.
Applications include grinding, welding, powder coating, grit blasting, bagging, blending, conveying and other materials-handling applications.
APPLICATIONS:
Power plants
Fertilizer plants
Food processing
Cement manufacturing
Paper mills
Pharmaceutical Production
Foundry and steel operations
Pharmaceutical Producers
Chemical Producers