BAG HOUSE DUST COLLECTOR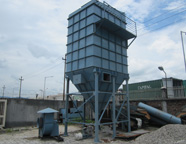 Shimi Research Center Pvt Ltd is a leading Bag House Dust Collector Manufacturer in India. We manufacture Bag House Dust Collectors with fine quality raw materials. Bag House Dust Collectors are very effective for removing dusts of various kinds. Because of our eminent product quality we are increasingly exporting Bag House Dust Collectors in various parts of the world. At present we are one of the leading exporters of Bag House Dust Collectors in Middle East and South Africa.
We at shimi research centre specialize in providing you cost effective, simple to operate baghouse dust collectors with a large variety of filters available to suit your needs. Our experts work with you at each step to create and deliver solutions that reap you benefits for a lifetime!
OPERATING PRINCIPLE:
When dust-laden air passes through a fabric, the dust is retained while clean air passes through. The filters are available in envelope, pleated and tubular shapes. The filters are normally suspended from the top and the dust laden air either directed from inside or outside of the filter bags. The cleaning process can be achieved using air pulse jet, reverse flow of air and mechanical shaking mechanism. In all the processes, the dust is collected at the bottom of the system by gravity.


APPLICATIONS:
Power plants
Fertilizer plants
Food processing
Cement manufacturing
Paper mills
Pharmaceutical Production
Foundry and steel operations
Pharmaceutical Producers
Chemical Producers
Baghouse provide several benefits:
They come in varying shapes and sizes to suit different processes and places
They work remarkably well in heavy dust laden environments
They can sustain prolonged wear and tear
Cost effective and efficient
Once a "blue moon" maintenance
Runs in air to cloth ratio of 1-1.5 m3/m2/min
OUR ADVANTAGE:
Robust system.
Highly efficient operation.
Tailored made design.
Firm Bag Support and dimensional stability ensures longer bag life.
Improved design facilitates easy bag removal and protects the operator from hazardous dust during maintenance.
System designed to fit your space.
Material of construction used as per the requirement i.e SS-304, SS-316, and MS.
Automation systems also provided.
Due to well known temperature Limitation of the bags, systems to cool the air and prevent sparks can also be provided, if necessary
The following is also the list provided to aid the selection of the bag.


In addition to the material type, whether the fabric or material is woven will affect what systems the bag is suitable for
Nonwoven materials consist of randomly placed fibers supported and attached to a woven backing. This strong construction is required for high energy cleaning techniques like pulse jets and aggressive shakers.
Woven materials have fibers wound in uniform, repeating patterns. This construction is used for low energy cleaning methods such as reverse air and lower-intensity shakers. The weave space affects the strength of the fabric and the permeability/capture efficiency of the filter.