BAG FILTER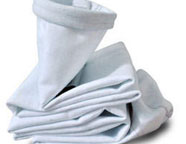 Shimi Research Center Pvt Ltd is a leading Filter Bags manufacturer in India. We supply high quality Filter Bags to different parts of the world emphasizing best quality and production process. At present, we are one of the leading exporters of Filter Bags to South Africa and Middle East countries such as UAE and Saudi Arabia.
Selection of suitable filter for different applications would be a challenge, failing it would result in inefficient system performance causing emission of pollutants (particulate matters) to atmosphere and damaging the environment. A well selected filter would maximize performance, increase filter life and reduce system downtime saving the money.
The filter bags are very effective for purification of dust laden gas by using principle of micro-filtration. The impure gas stream is purified by passing through small permeable pores in the bags. Different kinds of dusts (metals, organics, corrosive compounds, etc) along with different air stream characteristics (such as temperature, residual static charge, etc) require a different combination of filter fabrics and treatments in order to properly capture and filter the air stream. The bag filter media efficiency varies from very low (coarse filter) to very high (fine filers). Because each process is different, extra care should be taken when selecting the proper filter media to insure maximum efficiency and life of the dust collecting equipment. The material of the filter is generally made of glass or polymer fibers of different thickness or number of layers, depending on the required filter performance. In addition to the material type, whether the fabric or material is woven will affect what systems the bag is suitable for. Bag filters come in a variety of lengths, diameters, top and bottom constructions, and configurations.

Filter Bag Fabrics –
Aramid (Nomex) : Meta Aramid, an excellent all round fiber, ideally suits for dry hot environments where hydrolysis isn't likely to occur. These felts are frequently used in asphalt and cement plants. The temperature resistance is good (up to 220°C for short periods in dry conditions), but in common with other fibers such as polyester and P84, Aramids are susceptible to hydrolysis.
Fiberglass : Tailored made bags are made from accurately cut fabric and sewn with specially treated high temperature resistant thread that give very strong and durable leak proof seam.
Polyester : Polyester felts offer very good resistance to chemicals, abrasion, and dry heat degradation. They offer excellent dimensional stability and are the most common type of filter bags used today. Polyester offers good resistance to most mineral and organic acids, except high concentration of nitric, sulfuric, and carbolic acids. It has good resistance to weak alkalis and moderate resistance to strong alkalis at low temperature. Polyester also has good resistance to most oxidizing agents and excellent to most organic solvents. It is not recommended for some phenolic compounds and high concentration of strong alkalis at high temperatures.
Polypropylene : These are extensively used in Pharmaceutical and Chemical industry for the filtration process. Available in various GSM, micron and size, these meet the varied industrial requirements of our clients.
Nylon : These fabrics are made using superior quality nylon threads in various microns and are appreciated for precision, durability and accurate weaving quality. These fabrics also find application in ceramics industry and vegetable oil industry. Available in various sizes and patterns, we offer these cloths at market leading prices
PPS : Polyphenylene Sulfide felt has excellent chemical resistance for longer bag life. Extensively used for incinerator baghouses and coal-fired boiler baghouses in power generation and incineration; in chemicals processing; dryer baghouses in the pigment, plastic, and catalyst industries.
PTFE : Extensively used in spray dryers, cereal processing, clay grinding, cellulose fibers, paint mixing, fertilizer spray drying, catalyst manufacturing and fume metal oxide.